Rainbow Trail Campaign
1378. Crystal Stanley

Crystal Stanley, from Ipswich, created the inspirational 'Rainbow Trail' campaign with her daughter Ariana, encouraging people to decorate their windows with rainbows to show support for NHS workers.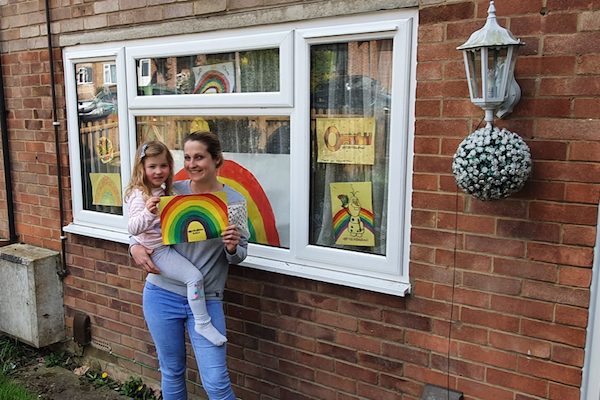 Crystal was inspired after seeing coverage of people in lockdown in Italy painting rainbows to spread a message of positivity and hope, and show support for health workers. With the help of her daughter Ariana, she created a 'Rainbow Trail' campaign for her local area, which quickly grew to become a nationwide phenomenon, reaching millions of households across the UK.
In a personal letter to Crystal, Prime Minister Boris Johnson said:
"I wanted to write personally to thank you and your daughter Ariana for encouraging millions of us to furnish our windows with rainbows in support of our extraordinary NHS. 
"Tonight as we stand together to applaud our carers, I will once again look towards the windows of Downing Street – which like so many homes across the land – are filled with the kaleidoscopes of colour and positivity that you have inspired. 
"Your Rainbow Trail has become a symbol of hope for our whole nation. So I am delighted to be able to recognise you as the UK's 1378th Point of Light, in this special series of awards to honour those supporting our communities as we unite to defeat Coronavirus."
Crystal said:
"I'm absolutely thrilled to receive this award for all the hard work that has been put into the Rainbow Trail. I want to say a huge thank you to all the admin team and to all the members for their hard work. The rainbow has become a symbol of Covid-19, spreading hope, togetherness and support for our key workers. We have raised money for East Anglian Children's Hospices and for Mind. The Rainbow Trail has pulled the world together during these hard times. First the rainbows get mentioned by The Queen and now recognised by the Prime Minister. That's simply incredible!"