PeachAid Medical Initiative Nigeria
Commonwealth Point of Light 125. Nkasi Obin Nebo

Nkasi Obin Nebo, representing Nigeria, is the founder of 'PeachAid Medical Initiative', an NGO which reduces maternal mortality rates amongst rural communities and Internally Displaced Person Camps (IDPs) by providing free antenatal care to 20,000 vulnerable women to date.
Nkasi's organisation distributes disposable birthing kits, has trained over 2,000 local birth attendants and has also started a free family planning service which has reached over 37,000 women and over 4,000 men.
Nkasi was presented with her award by His Royal Highness Prince Edward, Earl of Wessex, on behalf of Her Majesty The Queen, as Head of the Commonwealth, as part of his Royal visit of Nigeria (pictured below).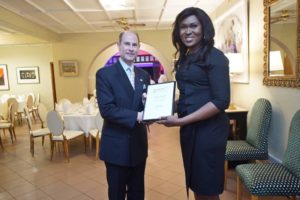 Nkasi said:
"I am greatly honoured and so touched to receive the Commonwealth Points of Light Award in recognition of my work. To see that every pregnancy is by choice; that every woman has access to clean and safe childbirth void of infections and bleeding; that every girl child has access to a hygienic menstrual supply is where my motivation comes from. I am dedicating this award to all my incredible colleagues at 'PeachAid Medical Initiative': they are midwives, doctors, pharmacists, radiographers, lab scientists. The many hours they put into this work, irrespective of where we go to, is the reason we are saving many lives and achieving results. We will not stop until we've reached every vulnerable young girl, and every pregnant mother in the rural communities across Nigeria with our life-saving services."

Watch Nkasi describe her work:
https://twitter.com/UKinNigeria/status/1225029138039353344?s=20