Connecting Cambridgeshire
122Mark Heath (Cambridgeshire)

A technology whizz from Cambridgeshire has encouraged over 90% of his local community to support a campaign to secure super-fast broadband for Spaldwick.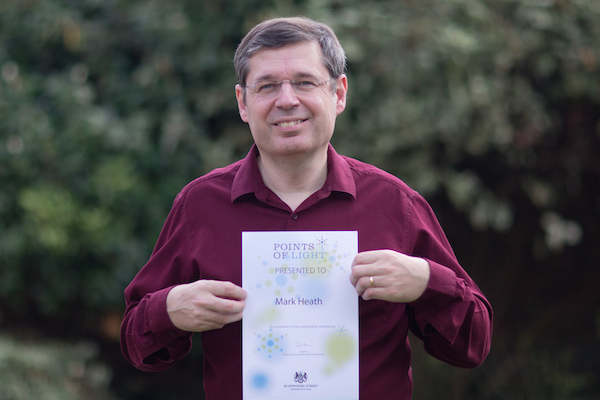 Dr Mark Heath, a broadband champion from Spaldwick, is a passionate supporter of the benefits of super-fast broadband and has been involved with the Connecting Cambridgeshire super-fast broadband programme since its launch in May 2012.
Mark spotted that in particular older people in his community needed support. He has been helping them to understand the benefits of getting connected, including visiting the Spaldwick Welcome Club, a social group for over 55 year olds. So far Mark has helped over 50 people to get the most out of the internet, and his enthusiasm for the benefits of new technology has made it easier for the people to access vital services and keep in touch with the digital world.
Mark also gives up his own time to run the Spaldwick Village website, a community hub, which contains advice on solving internet connection problems and tips for residents to get online. This has led to take-up of more than 40% of households upgrading to super-fast broadband within weeks of the launch in his area.
Prime Minister David Cameron said:
"Mark is a great volunteer whose workshops have enabled more people in Spaldwick to get up to speed with the internet. With more than 40% of households in the village already connected to the new super-fast broadband network that the Government and Connecting Cambridgeshire is rolling out, Spaldwick is one of the best connected communities in the UK and much of this is down to all the hard work put in by Mark. "Super-fast broadband is helping small communities to thrive and I am delighted to award Mark with a Point of Light today."
Mark said:
"Broadband champions across the country are spending a lot of their time helping their communities to get online and stimulate the demand for super-fast broadband. I hope that this award encourages others to take on the fulfilling role of broadband champion."
Digital Economy Minister Ed Vaizey said:
"I am delighted that the Prime Minister has acknowledged the incredible contribution Mark has made, and continues to make, through his volunteering work in Spaldwick. It is only fitting that his work in helping older members of the community develop their computer skills, and on the creation of the village website, is commended in this way."
Shailesh Vara, Mark's local MP said:
"I am delighted that Mark Heath has won a prestigious Points of Light award. It is important that all members of society are able to enjoy the benefits of modern technology and Mark's commitment to helping his local community, especially the elderly, has rightly been recognised. Mark's effort is making a real difference to people's lives and his award is well deserved."
Cambridgeshire County Councillor Ian Bates said:
"Congratulations to Mark on receiving this award which is richly deserved. Mark has been a stalwart supporter of our Connecting Cambridgeshire superfast broadband programme from the start and his achievements in Spaldwick show the important role our broadband champions play in helping their communities to get connected."
The daily Points of Light award recognises outstanding individual volunteers - people who are making a change in their community.
Volunteer now