Rubbish Walks
1150. Jason Alexander

Jason Alexander, from Suffolk, founded the voluntary group 'Rubbish Walks' to encourage people in his community to join in beach clean-ups.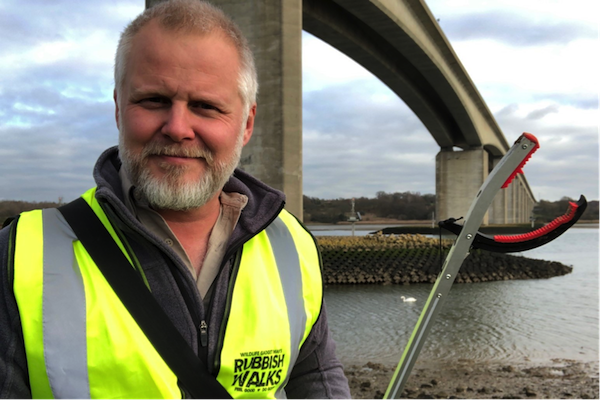 After launching a Beach Clean Marathon last summer in East Anglia, Jason has since held regular weekly beach cleans and cleared over 100,000 cigarette butts. As a wildlife photographer, Jason was inspired to take action on litter after repeatedly seeing rubbish blighting the local landscape, particularly from cigarette butts. Research by 'Keep Britain Tidy' found that only 38% of smokers are aware cigarettes contain plastic, and Jason is dedicated to raising awareness of the damaging impact this type of litter has on local environments.
Jason's award coincides with the start of the 2019 Great British Spring Clean. He was presented with his award by Environment Minister Therese Coffey on a litter-pick in Suffolk (pictured below).
In a personal letter to Jason, Prime Minister Theresa May said:
"Through 'Rubbish Walks', you are highlighting the terrible impact that plastic and cigarette butts are having on coastal environments, and inspiring people in your local community to take action. As we mark the Great British Spring Clean, you should feel enormously proud of the personal impact you have made in clearing litter from the beautiful beaches of East Anglia. I wish you the very best with your continued efforts."
Environment Minister Therese Coffey said:
"I am delighted to present Jason with the Prime Minister's Points of Light award for outstanding contributions to tackle litter and kick off the Great British Spring Clean 2019.
"I'd like to congratulate 'Keep Britain Tidy' and the Daily Mail on their campaign to help tackle the scourge of litter in our environment. We all need to be united to make littering an unacceptable habit of the past."
Allison Ogden-Newton, CEO of 'Keep Britain Tidy', said:
"I am absolutely thrilled that Jason has been selected for this award. As a Keep Britain Tidy #LitterHeroes Ambassador, Jason has tirelessly supported our campaigning efforts, from #BinTheButt to our small mammals roadside litter campaign #DontBeATosser through to the #GBSpringClean. Jason is such a valued member of the Keep Britain Tidy family and a very worthy recipient."
Jason said:
"I'm honoured to have received this award for something I love doing and feel so passionate about.
"I'm blown away by the other individuals and groups out there doing what they do every day to raise awareness about single use plastics, litter and waste in general. They are all truly litter heroes too.
"Individually we can make a ripple of change. Together we can make a wave."
Pictured below: Jason with fellow Points of Light litter heroes Emily Stevenson, Nadia Sparkes, Rosanne Bostock and Dhruv Boruah